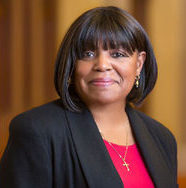 Things change, and it can happen quickly and often when we least expect it. Fawn knows this all too well. The second oldest out of four siblings raised in a military environment, she felt that she was prepared for anything thrown at her. She was embarking on a life filled with a loving husband and two children– Sherrod and Sean when, after eleven years, she felt it was time for a change. While working for a company that only paid her $13,000 a year working long hours and never getting ahead, she picked up a part-time job as a bodyguard for the entertainment industry working with a Major Stevenson from the Norfolk Sheriff's Office. One day, Major Stevenson suggested that she would be the perfect candidate for the sheriff's office, and it has been law-enforcement for her ever since.
Within the first three years at the sheriff's office, she rose to the rank of Master Deputy and was appointed administrator of the sheriff's office law library. While holding down that position, Fawn also worked as the lead person for the " Straight Talk from the Heart Program" where she found her purpose in law enforcement. This program allowed her to work with troubled kids in the community and in a jail setting. This was just the beginning, as Fawn continued to work with the youth in mentor programs at alternative schools, early childhood development centers, and community based programs.
In 2001, the American Legion Post 301 awarded Fawn "Deputy of the Year" for her outstanding service to the community while carrying out the duties of a Deputy Sheriff in a manner which reflected credit upon all sheriff's departments and for dedication to the profession above and beyond the call of duty. As a Corporal in the Community Affairs Division, she was once again in her element. This department established and maintained close ties with the community in order to respond to specific needs and concerns affecting the citizens of Norfolk. Programs such as the Senior Watch, TRIAD, Project Lifesaver, Safety Print for Seniors and Kids, and Straight Talk from the Heart were just a few of the many programs presented and carried out by Fawn and her team.
In 2012, Fawn graduated from ITT Technical Institute with a Bachelors of Science degree in Criminal Justice. While being an advocate for social justice and human equality, Fawn was elected to the board of her church, The Great Awakening United Church of Christ in Portsmouth Virginia, where she sat for seven years as the board secretary and maintained the position of church secretary for eight years. Now retired from the Norfolk Sheriff's Office, she founded her own company "Devine Design Duo" where she is able to express another one of her passions: designing and decorating for all events.
Fawn continues to reach out to the community by being actively involved with events, organizations, and forums for the betterment of the community for all people.