PrideFest Boat Parade
Date and information coming soon!
Since 2011, the Pride Boat Parade continues to be a highlight of PrideFest. We are proud to host the only Pride Boat Parade in the country celebrating our connections with the 300 year maritime history of our port cities. The Pride Boating Club of Hampton Roads was established by participants after the Inaugural Pride Boat Parade in 2011 and continues to coordinate this popular kick-off event signaling the start of PrideFest annually. Town Point Park, nestled on the riverbanks of the Elizabeth River, provides a unique setting for boaters to be part of this event.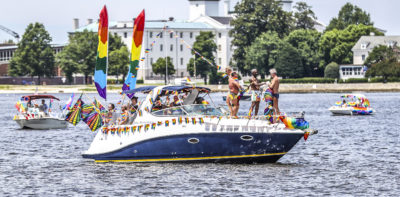 Boat Registration
Private boats of all sizes are encouraged to participate in the decorated boat parade offering colorful and inspiring themes and making the parade an experience to remember.
For more information, contact ​prideboatclubhr@gmail.com​. To register online, use the link below.