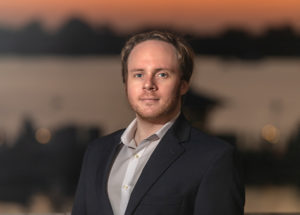 Joshua Weinstein is a news reporter for Southside Daily where he covers Virginia Beach City Council, new businesses, and other local happenings. As a volunteer with Hampton Roads Pride since 2015, Joshua is now co-chair of HRPride's Scholarship Committee, which awards over $6000 in academic scholarships to the LGBT community every year. He has also contributed to research for the LGBT history display exhibited every year at PrideFest.
From 2013, to 2017, Joshua sat on the board of directors for the Norfolk Society for Cemetery Conservation, a local historic preservation nonprofit that partners with the City of Norfolk to maintain its historic cemeteries. He has been a staunch ally of the LGBT community his entire life, drawing inspiration from the strength of his LGBT family members and friends. He is honored to be a representative of this organization and community.
Joshua recently began serving on the N.E.O.N. Public Art Subcommittee and also leads public art tours of the N.E.O.N District for the Downtown Norfolk Council during the spring and summer. Joshua received his B.A. in History from Old Dominion University and lives in Norfolk.